Note: The content of this article was originally written for my newsletter subscribers on October 22, 2021. If you want to read these articles while they're still fresh, please subscribe to my newsletter today. You can find the signup link in the side panel (desktop) or at the bottom of this page (mobile).
---
Hi Early Bird Newsletter Subscribers!
Something momentous has happened this weekend that has been in the making for almost a year.
My official author site is now open!!!
Sort of…
Okay, when I say "opened," what I really mean is "no longer hidden behind a construction wall, but finished, it ain't."
Yep, eleven months later, I'm still building the darn thing. But sometimes we just have to agree that there's enough content now to warrant allowing visitors' passage onto the site, so what the hay, right? So that's what we're doing this weekend. The hay.
Now, I hope you'll take a look, explore the place, maybe say hello on the comments for my "Site Soft Launch" blog article, or even one of the fake posts if you want because I'm not deleting history (just because the construction wall was blocking my posts doesn't mean I wasn't posting anything)! And I certainly hope you'll explore the bread and butter of the site, the books section.
But I also wanted to thank you for joining my mailing list long before I had a site to show off. So, it's time I offered you a unique gift to show my thanks.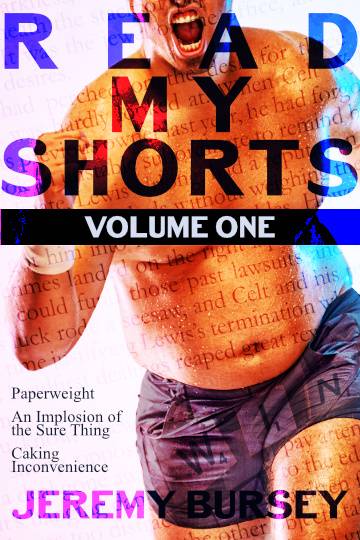 Yes, now that my site is unlocked, I can give you your own subscriber bonuses page, and on that page is this gem of a title. By clicking on the link below, you'll access the page and everything it offers, including this e-book.
And please be sure to save the page (and this email) because all future bonuses will be offered here.
To get the e-book, you'll click its download link. The link will then take you to a hosting site called StoryOrigin, where you can download the book in your preferred format (epub – android, most e-readers, mobi – Kindle, or pdf). If you have trouble getting the book onto your device, StoryOrigin's team is in place to help.
Then, when you're done reading it, please be sure to visit its "Information Map" and leave your feedback.
[Note from the Future: This is where email newsletter readers got to access their subscriber bonuses, including the exclusive e-book Read My Shorts: Volume One. If you're reading this and you'd like the same subscriber bonuses, please be sure to sign up for the email newsletter. You can use the signup form in the side panel (desktop) or at the bottom of the page (mobile), or click the link at the end of this article to join my mailing list and access the same perks.]
And that's all there is to it.
But now I have a special request. This one's important.
Again, thank you for joining my subscriber list long before I had anything to say or show for it. But let's be honest, most of you are on here because I asked you to be on it. Some of you came with the SendFox platform. I'm not sure if any of you ever confirmed your subscription status.
So, what I'm asking from you now is confirmation. Do you want to keep receiving my newsletter? Did you ever want to receive it?
Well, you're still opening my messages, as evidenced by the fact that you're reading this. But I must say that readership, even among my small numbers, has been very low, so I have to be sure.
So, here's my request. Now that my site is open and my first bonus is ready for reading, I've reorganized my emailing system to include three levels:
Onboarding
Newsletter and Book Releases (two separate lists)
Beta and ARC Readers
That means I want to retire the Early Bird list. That's the list you're most likely on if you're reading this. That also means sending emails out to the right groups for the right reasons. But it also means making sure you want to be on these lists and that you want to be part of these groups.
I mean, do you want to become a beta reader for my next book? When I created this list, I had no mechanisms in place to capture that interest. But now I do. Now I can give subscribers the option to join my beta team once they reach the end of the onboarding sequence.
And what about that onboarding sequence? Well, that's changed, too. When you signed up (or let me sign you up), you got a series of five emails, three of which were just collections of my articles and videos. Most of you didn't read them. It was something I threw together to make sure you had something worth reading.
Now I have an official series of welcome emails that gives you a chance to confirm your subscription, collect your subscriber bonuses (which I just gave you), find out which books I recommend from other authors (Hint: Lee Child is on that list), a story about a shocking thing that happened to me, a story about the times I had a "first taste of creative payoff," which includes having a line of dialogue I wrote spoken onscreen in a movie theater (yes, true story), and some other things you might find interesting. At the end of it, you'll become part of my new emailing group of "confirmed subscribers" and you'll get the offer to become a beta reader, ARC reader, or both (what I'm calling an "early access" reader).
I could just throw all of those things onto a single page and let you go through them at your leisure (I'd actually contemplated doing this to save you some time). But I'd rather confirm your interest in continuing to receive my newsletter and special offers. And the best way to do that is to have you…
Sign up…
Again.
Maybe for the first time.
Would you be willing to do that?
Now, don't feel pressured. If you want to become a beta reader (or ARC or both) without going through another welcome series, the other option is to respond to this email and tell me that you don't want to re-subscribe, but you do want me to add you to my beta, arc, or early access list. Whatever works best for you. But re-subscribing will also send those other extras your way, like the book recommendations and so forth. Not all at once, though. The whole thing will take about seven weeks to reach the beta reader invitation (not that I have anything for you to read before then). The other thing I'd ask is if you don't want to re-subscribe, but you do want to continue getting my newsletter, is to let me know that it's okay to move you to the new official list.
Is that all fair?
Again, let me know what works best, but if you'd like to re-subscribe (and I hope you will), please visit my site's Newsletter Landing Page and use the pop-up form to get onto the new sequence. Important: If you do this, please remember to check your email for the confirmation request and open it and click on the button inside to confirm. The new subscription will not take effect until you click that button inside the confirmation email. And if that confirmation email never comes, please check the junk or promotions folder to see if it went there.
Okay, well, that's it for this round. Thanks again for reading this newsletter, and I hope you'll continue to stick around for some more. I hope you enjoy the e-book!
Until next time.
–Jeremy
---
Cover Image: Pixabay (from Pexels)