Just a quick product announcement tonight.
I make it no secret that sales of my books are generally low to nonexistent, and have been since I started self-publishing. One such title, When Cellphones Make Us Crazy, has been among the lowest. In fact, its sales are so poor that I fail to move copies even when I give them away for free.
I typically don't know if the lack of customer interest comes from a bad title, unattractive cover, or nonthreatening book description, but after updating the original short story, "When Cellphones Go Crazy," to this expanded novella edition and giving it a new cover, all to no new sales, I have to wonder if adding more content and a new cover just isn't enough.
Maybe the problem is with the title's concept itself:
When Cellphones Make Us Crazy
A coming-of-age romantic comedy.
Or is it a nonfiction book about the dangers of using cellphones in a modern society?
I know the answer, but do you?
If the problem is with the title, then the solution is, too. Fortunately, I had a flash of inspiration tonight that drove me to conceptualize this new title as a possible solution to that problem, if it is a problem.
Avery Ward Was Here
What I like about this title (if I end up using it, and I probably will) is that it just sounds like a coming-of-age romantic comedy. It also does a better job capitalizing on the protagonist's personal problem (which I won't discuss in this post, but I may as I get closer to releasing the update). In short, I think it works better as a product that readers of that genre will want than When Cellphones Make Us Crazy or other equally cumbersome titles I was considering, including When Psychologists Make Us Crazy, When Psychologists Drive Us Crazy, and When Therapy Makes Us Crazy.
Obviously, I could be wrong. As I learn more about the waters of book marketing and how to tread them, I have to track both the wins and the losses from experimentation.
But this one feels right.
Anyway, you can judge it for yourself. Here's the updated When Cellphones Make Us Crazy vector cover concept with the new (working) title, Avery Ward Was Here.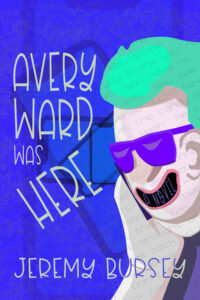 Tell me what you think. And don't forget that you can track progress reports on this book by checking out its roadmap. Please be sure to upvote the "I Want to Read This" card if you're interested in the book, and the "New Title" card if you approve of the new title and cover concepts.
In other news, I'm just about finished with Paperweight's first act. I've been writing scenes out of order, so I have plenty of second act scenes already finished, but I'm wrapping up the first drafts of each scene I need to finalize the direction of the first act, so I'll have a better idea on how well it's working once I assemble them in the proper order. I've also updated my All Books Roadmap to include Paperweight. Be sure to upvote it if you want to read it, or visit Paperweight's official roadmap for detailed updates.
That's all for now. I appreciate any feedback you have on this or other books I'm writing or updating. And please check out My Books for information on all of my current and upcoming titles. The more engaged you are in my work, the better I can decide which books to prioritize.