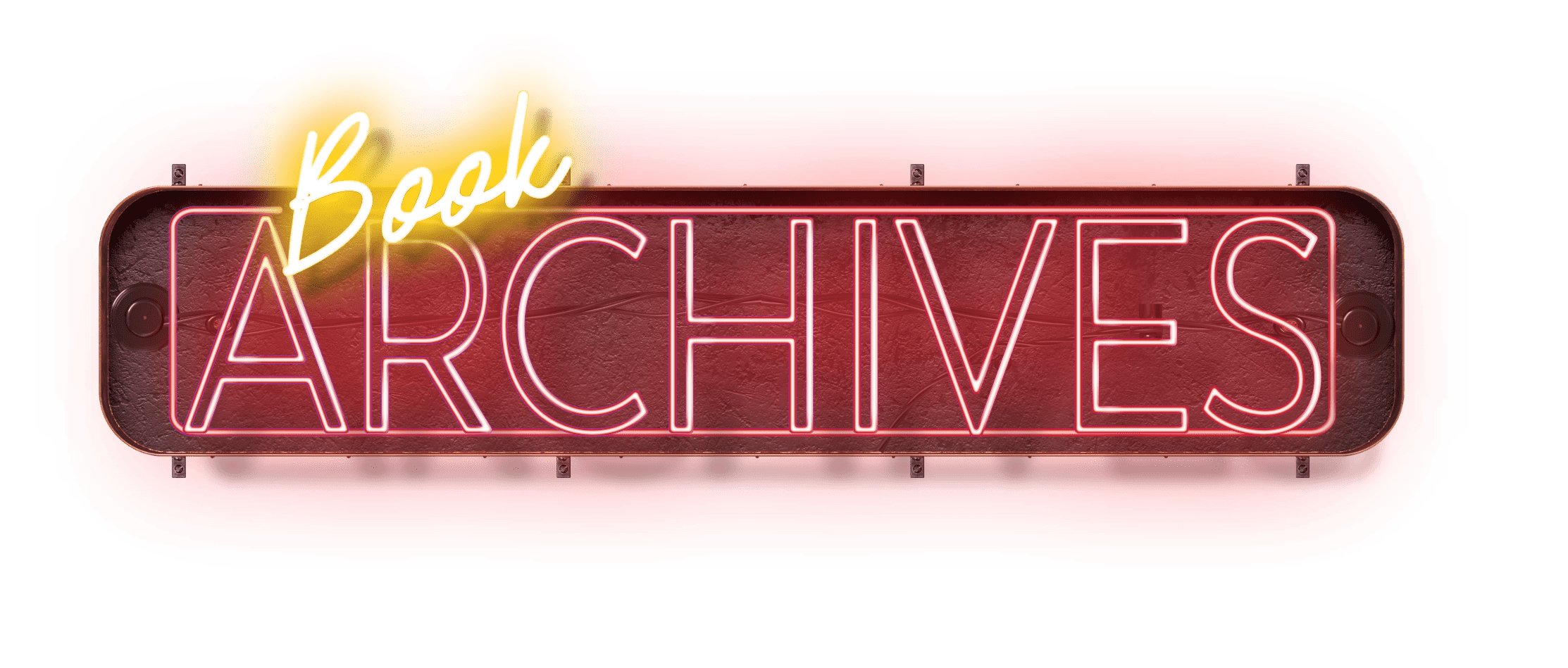 The place for dusty treasures.
So, you're curious about where this madness began? Fair enough. This section contains many of my older works, including works that are no longer available for purchase (but you can still read for free right here…if you really want to), and works that will never be available for purchase.
This section also charts my progress as an author from the early days when I didn't know what I was doing, to the mediocre days when I thought I knew what I was doing, to the promising days when I had good ideas that could've been better. It also contains works that may not need dedicated books by themselves but may nevertheless be worth reading. These could include blog collections.
A few of these books will still have store pages available on Smashwords, so if you wanted to read them on your e-reader, you can. But for those that are not available, you can either check out their attached PDFs, or read my reason for making them unavailable.
My author life has a beginning, and that beginning is City Walker, a handwritten "novel" about a guy who just wants to get to the television repair shop, but can't seem to make that trip thanks to the criminal organizations, environmental disasters, and future-dimensional zones that keep getting in his way.
I wrote it when I was 13, so it reads like an episode of Teenage Ninja Mutant Turtles, but without the logic. It's also based on a game I made where you choose a city, destination, and five random numbers from 1-144 (each number corresponding to a specific event) to see if your character can get a happy ending. The game still exists, but it's also written in pencil on lined paper. One of these days, I may convert it to an interactive medium. It wouldn't be difficult or take long to do. I should probably do that to preserve it. But not today.
News for 2021: I managed to convert my handwritten text to MS Word a couple of years ago and started "revising" the story to share with my readers. I haven't finished this revision yet, but I hope to sometime in 2022. Be aware that this story will get two major updates in the near future:
An improved version of the original story, which will be a professional spin on the results of my 13-year-old self's random imagination without changing the scenes or the scattered story line. I can't promise it'll be good, but it might be entertaining. This version will be a free website exclusive, hopefully in 2022. (I'll post it here.)
A rewritten-from-scratch trilogy that adapts the characters and settings from the original to a new interpretation of a plot that I should've told if I'd had more life experience at the time. This version will make the rounds at the retailers, but I don't expect it before 2024 or 2025.
If you're interested in reading this origin story, please subscribe to my newsletter or follow me on social media to get the latest news.
My college major was English with a Creative Writing track. To get that degree, I had to take a bunch of writing courses across multiple disciplines and earn at least a C in each of them. I also had to write a lot on the side to keep my engines hot.
The Collection of Junk (the title was meant to be a joke, but everyone took it seriously, unfortunately) is a three-volume collection of my writing life from 1991 to 2006, consisting of short stories, poetry, essays, and just about everything I'd written (and typed) for high school, that insufferable college degree, and for fun. It's the greatest archive of my early works and serves as the original publication source for many of the short stories I later self-published in e-book form, including a few listed in this section.
Note: Each volume was originally self-published on CaféPress, but CaféPress's POD book division has since come to an end, and I never had the urge to remake them on a different platform. And because many of the stories represented in those volumes have since been remade or will be, I never saw a reason to put them back into circulation. That said, if you want to read them, I've made their PDF versions available here.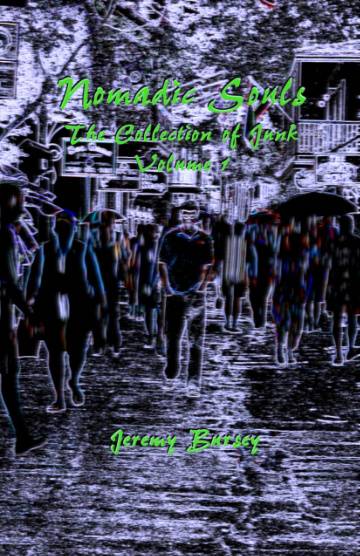 Nomadic Souls
The Collection of Junk
Volume 1
(2004)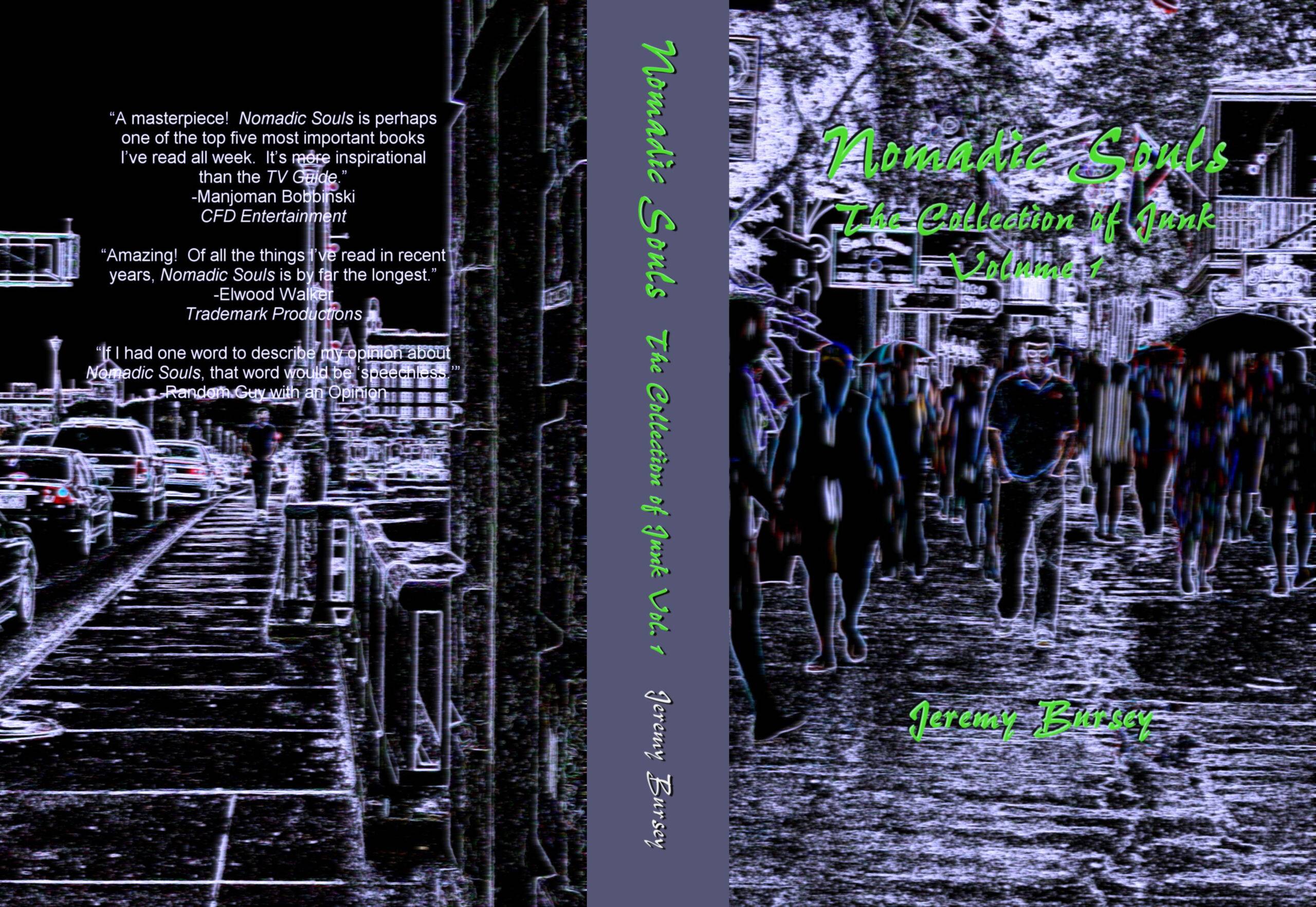 "A masterpiece! Nomadic Souls is perhaps one of the top five most important books I've read all week. It's more inspirational than the TV Guide."
-Manjoman Bobbinski
CFD Entertainment
"Amazing! Of all the things I've read in recent years, Nomadic Souls is by far the longest."
-Elwood Walker
Trademark Productions
"If I had one word to describe my opinion about Nomadic Souls, that word would be 'speechless.'"
-Random Guy with an Opinion
This title is available to read in PDF format on desktop only. If you would like to explore this book, please revisit this site on your desktop computer or laptop and click the "Read for Free" button. If you wish to read on your tablet or smartphone, you'll need to download the PDF to your desktop, then transfer or save it to your device of choice. Make sure you also have a PDF reader installed on your preferred reading device.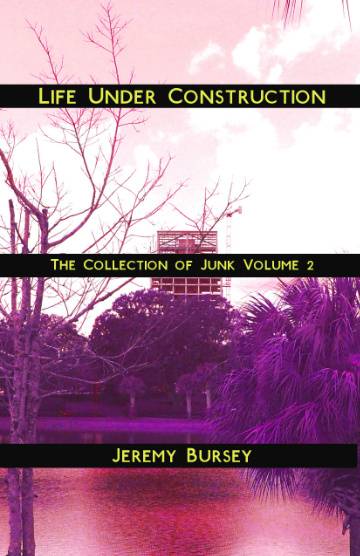 Life Under Construction
The Collection of Junk
Volume 2
(2005)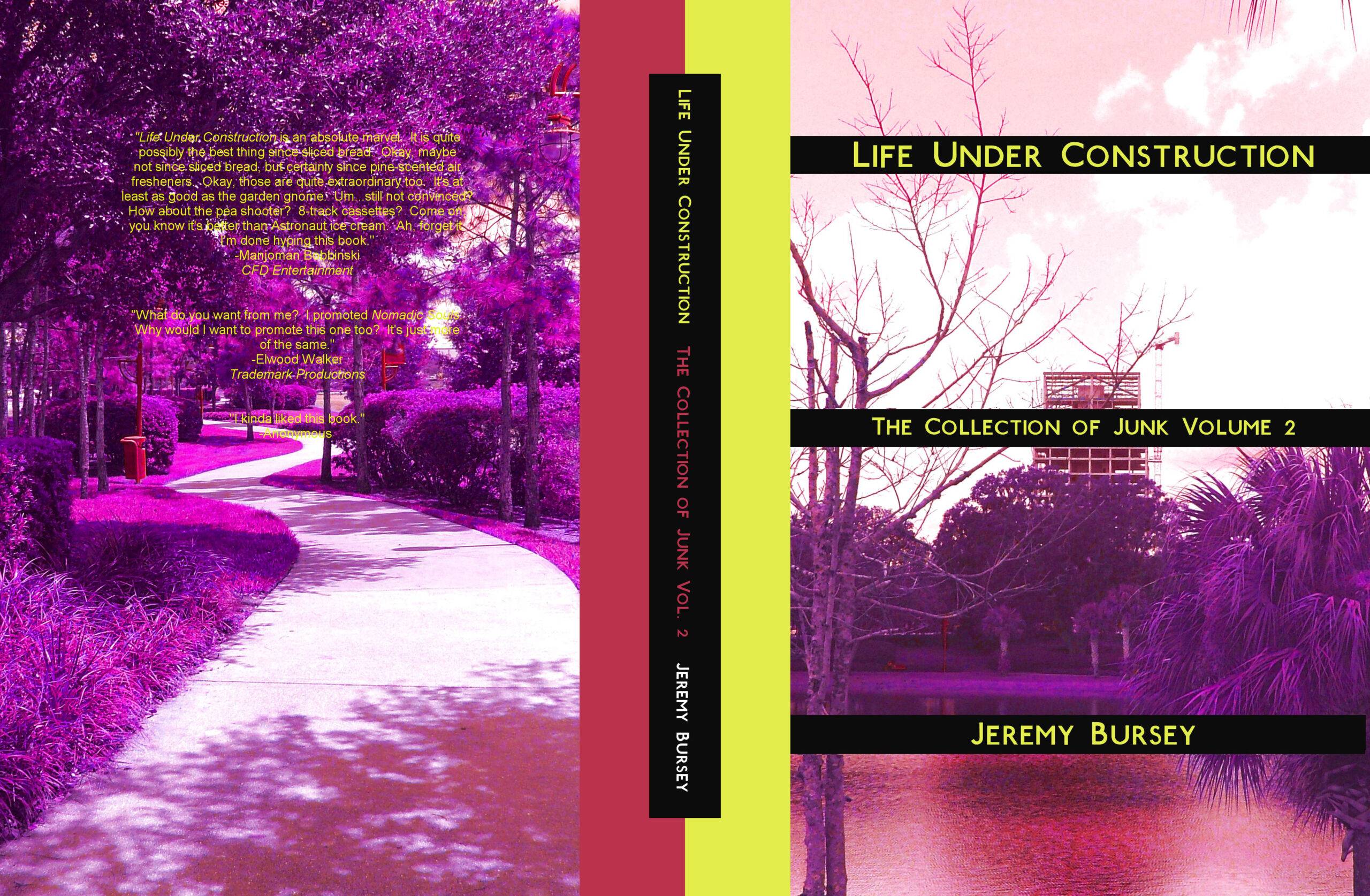 "Life Under Construction is an absolute marvel. It is quite possibly the best thing since sliced bread. Okay, maybe not since sliced bread, but certainly since pine-scented air-fresheners. Okay, those are quite extraordinary too. It's at least as good as the garden gnome. Um…still not convinced? How about the pea shooter? 8-track cassettes? Come on, you know it's better than Astronaut ice cream. Ah, forget it. I'm done hyping this book."
-Manjoman Bobbinski
CFD Entertainment
"What do you want from me? I promoted Nomadic Souls. Why would I want to promote this one too? It's just more of the same."
-Elwood Walker
Trademark Productions
"I kinda liked this book."
-Anonymous
This title is available to read in PDF format on desktop only. If you would like to explore this book, please revisit this site on your desktop computer or laptop and click the "Read for Free" button. If you wish to read on your tablet or smartphone, you'll need to download the PDF to your desktop, then transfer or save it to your device of choice. Make sure you also have a PDF reader installed on your preferred reading device.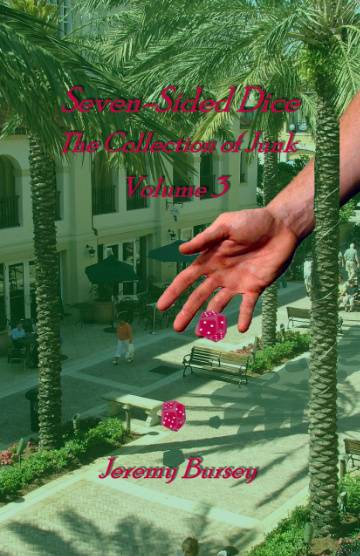 Seven-Sided Dice
The Collection of Junk
Volume 3
(2006)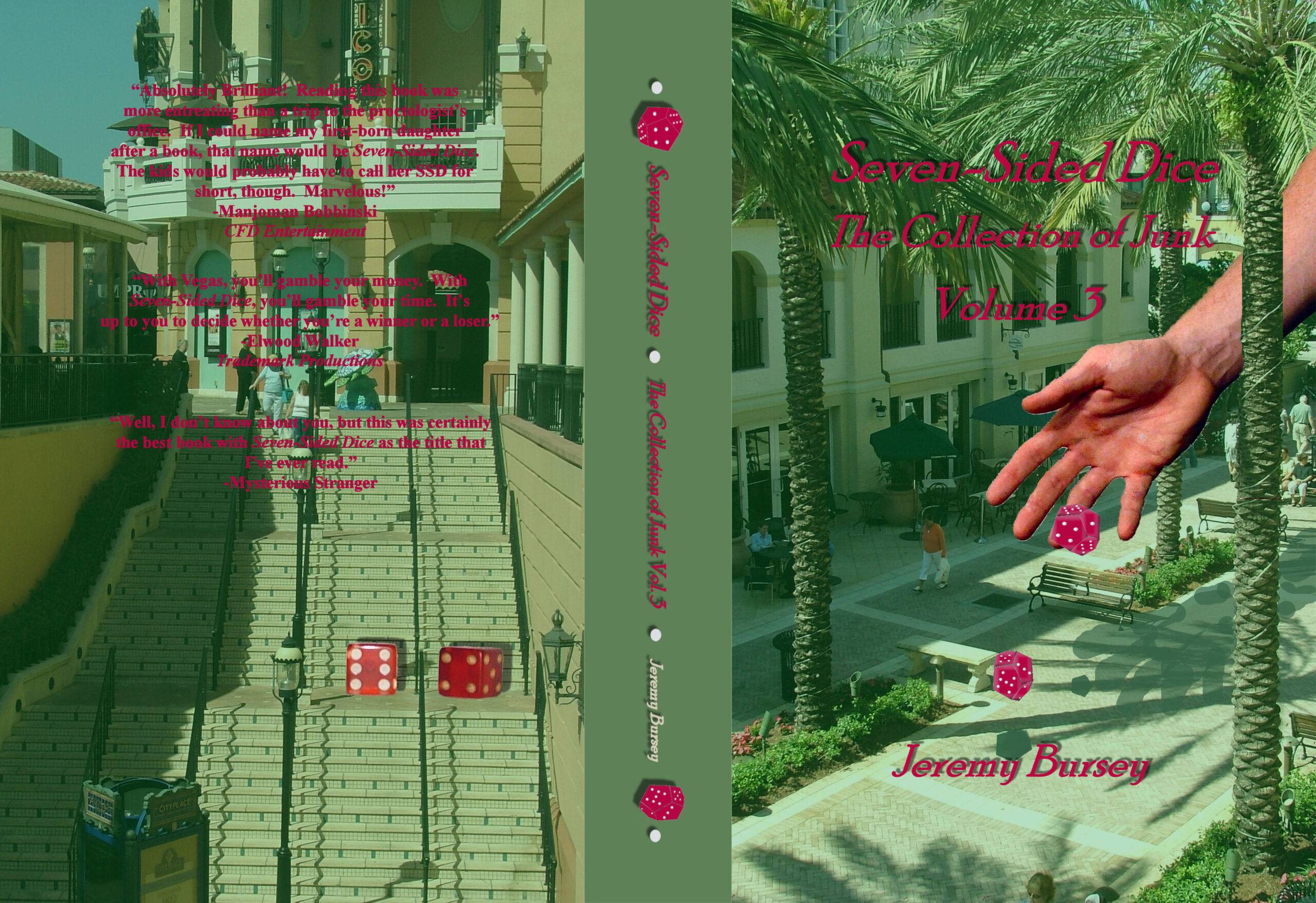 "Absolutely brilliant! Reading this book was more entreating than a trip to the proctologist's office. If I could name my first-born daughter after a book, that name would be Seven-Sided Dice. The kids would probably have to call her SSD for short, though. Marvelous!"
-Manjoman Bobbinski
CFD Entertainment
"With Vegas, you'll gamble your money. With Seven-Sided Dice, you'll gamble your time. It's up to you to decide whether you're a winner or a loser."
-Elwood Walker
Trademark Productions
"Well, I don't know about you, but this was certainly the best book with Seven-Sided Dice as the title that I've ever read."
-Mysterious Stranger
This title is available to read in PDF format on desktop only. If you would like to explore this book, please revisit this site on your desktop computer or laptop and click the "Read for Free" button. If you wish to read on your tablet or smartphone, you'll need to download the PDF to your desktop, then transfer or save it to your device of choice. Make sure you also have a PDF reader installed on your preferred reading device.
Because everyone hated my joke title for my previous collection series, I decided to try something more generic for my follow-up collection. That follow-up, Zippywings 2015: A Short Story Collection, features the eight revised editions of my college-era short stories that I released as e-books in 2015. These books are still available individually, but this book is the only way to read them in print.
Note: A few of these titles have been touched-up individually since 2015, but this book has not been revised since that first release, so getting this book means getting the 2015 edition of the stories, too.
I'd planned on releasing a follow-up collection called Zippywings 2016, but because I'd released only three short books that year, I decided to skip it.
A 2015 collection of short stories, novelettes, and novellas that run the gamut of themes from economic wrestling, to love and loss, to therapy, to professionalism, and more. It's a full platter of genres and story ideas that should keep readers busy for days.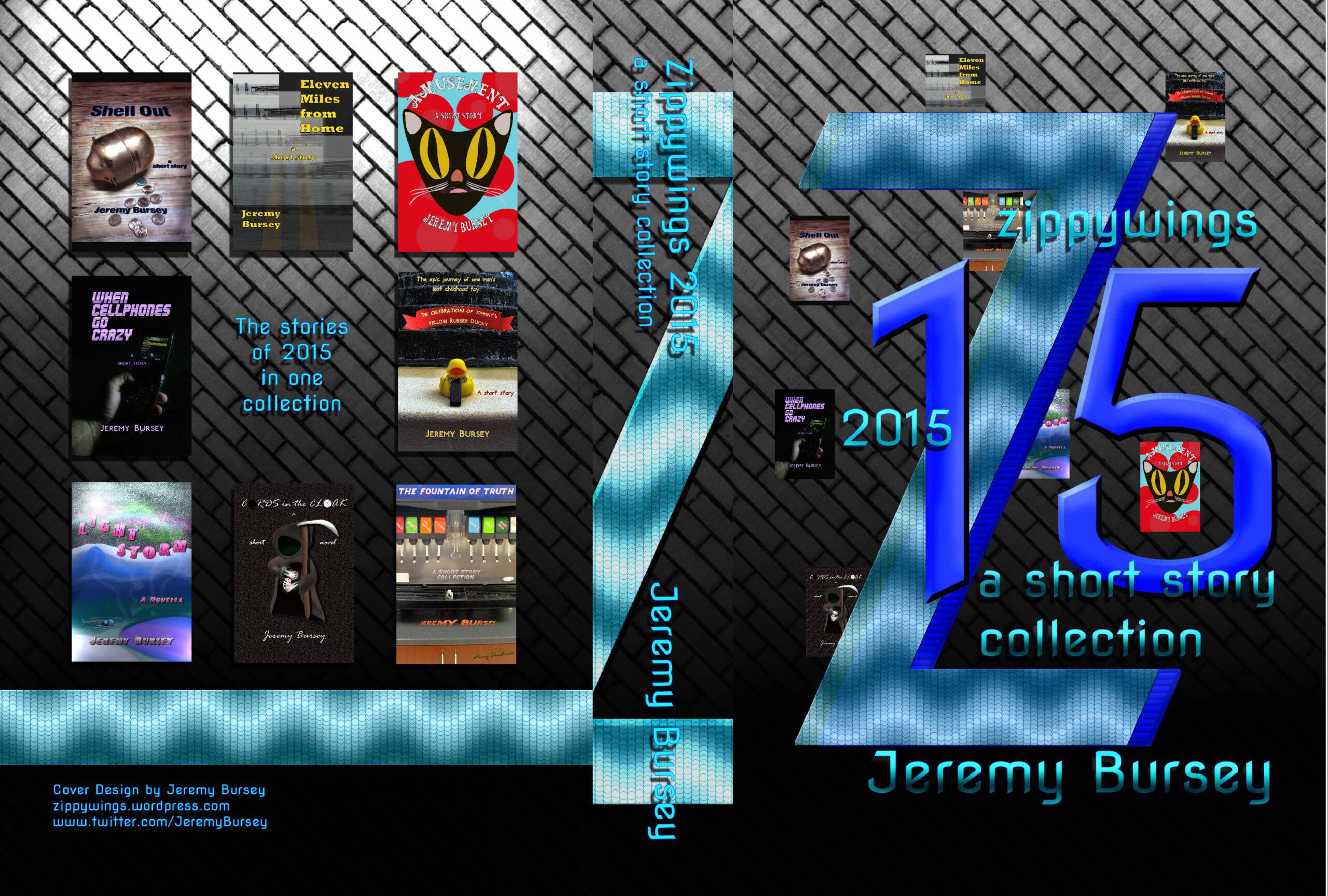 A Modern-Day Fantasy Annual Edition
From Christmas 2007 to sometime in 2012, I devoted the majority of my writing time to an epic action-thriller series based on my comic and RPG superhero character Powerstick Man. This series, A Modern-Day Fantasy, follows Jimmy Knightly, a tennis star on the run from a serial mass murderer, as he expatriates himself to a secluded island where superheroes are made and reluctantly joins their ranks. I'd written three complete annual editions, got most of the way through the fourth, and started the fifth when I decided to test the first annual's marketability on Smashwords on Christmas 2015.
As a freebie, of course.
I was hopeful. It was a monster story on the scale of Game of Thrones or any Harry Potter book, and after releasing a bunch of short stories in 2015, this giant was a welcome change to my library. Needless to say, the free version got some attention for the first couple of days, then enjoyed a spike of 100 downloads over two days when a reviewer gave it five stars on Barnes & Noble in January. Then the downloads waned. But by then, the book had at least 200 downloads, which meant I was ready to release the second book. So, in May 2016, I released it.
For a price, of course.
No one wanted it, it turned out.
Okay, sure I got a couple of sales over its lifetime, but just a couple. Certainly not enough to justify releasing the third annual under the same conditions. If I wanted to continue the story for readers, not just for myself, I'd have to change how I released it. And presented it.
Which meant canceling the Annual Editions and rewriting them as regular-sized novels.
So, this section is a reminder that the annuals exists, that they can still be purchased on Smashwords, and that I still plan to continue the story. But it's also a reminder that the story will be broken in smaller chunks, rewritten where necessary, and rereleased with new titles in the near future.
That said, you're welcome to purchase either of these two books if you'd like, but it's better to wait for the reboot whenever I get the time to work on it. But do what you want.
Cannonball City
A Modern-day Fantasy
Annual Edition #1
(2015)
A mass murderer wants him dead. A mysterious faction of spandex-wearing crime-fighters wants to recruit him to their team. And his friends want him to lie low from all life-ending threats. What's a tennis star like Jimmy Knightly to do? Fight them all, of course. In this identity-shifting epic journey, Jimmy will travel the path between sports hero to superhero, whether he wants to or not.
On Day 4 of the Australian Open, the temperatures are insufferable, and Jimmy Knightly is engaged in a heated battle against his rival, Jake "The Rake" Caramel, for advancement to the third round. With the exception of the fierce heat, the match goes as he expects—he plays hard, and Caramel plays dirty. They keep it neck and neck for as long as they can, but as they near the end of the match, Caramel goes for the injury shot. Moments later, a man in the crowd takes a real shot. Chaos ensues in the stadium. Jimmy is whisked away to the hospital. His chance to advance to the next round ends.
The events at the Australian Open seem random at first. An irate fan goes berserk—could happen to anyone, for any sport. But as Jimmy spends the next couple of months recovering from his injury, he begins to discover how dangerous a turn his match at the Open has taken. Someone has put a price on his head, and the man taking the contract is an unstoppable killer with masks and support cover-up technology that no one knows how to investigate. Everyone tells Jimmy to run, as this killer is a ghost in the flesh, but Jimmy is not so willing to give up his life, no matter how likely this guy would kill him.
Fortunately, FBI Special Agents Joyce McKinley and Thomas Sturgeon are on the case. This enigmatic killer, the Spotless Cowboy, has been on Sturgeon's radar for eleven months, and he and McKinley are eager to close the book on him. Sturgeon just needs cooperation with Jimmy, and part of that means keeping him alive. Every little bit of information he can offer to uncover the Cowboy's identity helps. But Jimmy's memory is terrible. He would have to draw this killer out in the open again just to identify him. Sturgeon is not against the idea of using bait, but he would prefer to protect his asset. That means putting him in Witness Relocation, even if it doesn't change the fact that Jimmy is a celebrity who cannot actually hide.
However, deep in the mysterious waters of the Caribbean, a secluded island called New Switzerland is designed to do just that—hide people who don't want to be found. But is it any safer than Los Angeles?
What follows is an epic journey of trust, realistic expectations, unrealistic expectations, terror, weirdness, unrequited love, and ultimately heroic transformation, as Jimmy, in his quest to put the Spotless Cowboy behind him, somehow manages to invite even scarier people into his life who want to turn it upside down and mash him into pulp. And those are just the good guys.
Please Note: This super-long "Annual Edition" consists of the abridged versions of three consecutive (not-yet-individually-released) A Modern-day Fantasy novels. It is arranged to flow seamlessly as a single volume taking up one year of Jimmy Knightly's heroic adventure.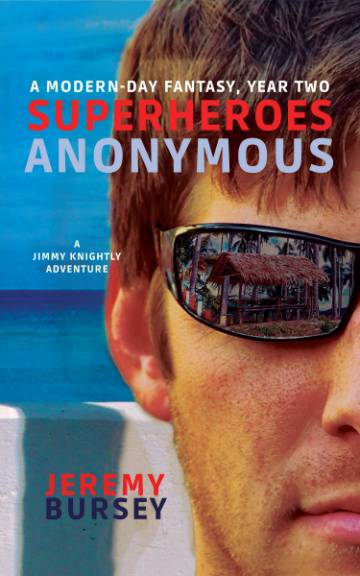 Superheroes Anonymous
A Modern-day Fantasy
Annual Edition #2
(2016)
Jimmy Knightly, now a sidekick to a well-respected Risen Ordinary, undergoes his year of superhero training. His self-centered nature sends him off-course, of course, and his rebelliousness puts his mentor, and his team, in jeopardy. But with rumors surfacing of an old murderous nemesis coming to town to finish what he started, Jimmy will do anything to keep evil well at bay. If he can.
Fresh off his victory at Cannonball City Hall, Jimmy has reluctantly agreed to join the elusive team of superheroes called the Risen Ordinaries. He still has no idea what he's doing here on this island of freaks. After all, his heart belongs to California, and he wants to return to the championship tennis circuit as soon as possible. But he knows he cannot go back, not yet. The Spotless Cowboy is still out there looking to murder him. And even though Jimmy is much better equipped to confront him now, there's still that nagging question: Can he actually defeat him?
What's worse is that Jimmy now knows two things that keeps him unsettled at night: 1. The Cowboy knows how to find New Switzerland, and 2. He knows Jimmy has most likely come here. What Jimmy doesn't know is when or if the Cowboy will make his appearance. So, even though he trains as a sidekick for a respected New Swiss superhero, Jimmy is constantly looking over his shoulder for sign of his tormentor's presence and is constantly distracted by the possibility that every step he takes in the open is his last. He knows he cannot hide anymore, but at least he takes comfort in knowing that he can mask himself under his new crime-fighter identity and increase his odds of keeping himself out of the crosshairs.
Or so, that is until a new villain attempts to unmask all heroes and vigilantes, including Jimmy, and expose their true identities to their friends and family, to the entire nation, and, of course, to their enemies. If he cannot hide under any identity, then he cannot hide, and this causes Jimmy more trouble than he can stand. With superhero politics, a troubled relationship with his neighbor, Julie, and more rebellion than he can shake a fleet of twenty cats at, Jimmy most definitely has a crazy sophomore year in New Switzerland ahead of him.
Please Note: This super-long "Annual Edition" consists of the abridged versions of two consecutive (not-yet-individually-released) A Modern-day Fantasy novels. It is arranged to flow seamlessly as a single volume taking up one year of Jimmy Knightly's heroic adventure.
Not only do I have story collections and anthologies on my "once upon a time" list, I also have individual short stories and novellas that I wanted to work, but for whatever reason I couldn't get them to break through, and now I no longer support them in their current forms. But it doesn't mean I'm not thinking of ways to resurrect them in new forms. Either way, these are the books that I no longer promote, but you can still find them on Smashwords if you really want to read them.
Which bridges would you burn to meet the girl of your dreams? In a cellphone obsessed world, Avery Ward is about to find out the answer to that question for himself.
Avery Ward has had limited success with relationships in his twenty-something years on earth, and they all had ended in disaster, including his most recent engagement to the straying Allison. As a student in psychology and a counselor-in-training, he feels it's important to analyze the mistakes of his past before embarking on those same mistakes in the future; it's the reason he's careful about the chances he takes. So, when he sees Melissa, the girl of his dreams, at a fraternity party one night, he calculates the risk in talking to her, deciding if she may or may not be crazy. But his limited exposure to examples of such high-class beauty as she overrides any sensibility he might have about holding back, so he goes in for the conversation. And, for a solid sixty seconds, he is enraptured by her words, her voice, and her stunning physical form. Bonus: She doesn't seem the least bit out of her mind. But, like the best things he finds in life, his moment of bliss is cut short when her cellphone rings and she disappears into the night to tend to her call. He attempts to find her again before the party ends to finish their conversation, but he has no luck. His dream girl has gotten away.
Fortunately for his aching heart, serendipity has either a sense of humor or a need for answers, so many months later, fate brings Avery and Melissa back together in a new place. But will she remember him if he tries to get her attention? And will he even have the guts to talk to her again after having such ill luck with others in the past? And can they reconnect in spite of the incessant cellphone alerts causing an interruption to Avery's quest?
Thanks to a friend's advice, Avery decides to pursue his dream girl no matter the risk. But thanks to the mistakes of that same friend, Avery Ward is about to embark on a journey that could cause him to lose more than just a chance at meeting his dream girl. Once again he has to assess the risk and decide if this one's worth gambling with fate and if fate will even allow him to fulfill that second attempt at initiating love.
As much as I wanted this story to work, I've gone through too many versions without satisfaction to justify keeping its current form intact. I've since rewritten it as When Cellphones Make Us Crazy, a novella that carries the same theme and concept but with better execution of scenes, yet I still think it's too abstract without a simple narrative arc involving a true inciting incident and character development beyond "rising above selfishness" or whatever, so I've decided to retire both the original version and the novella update in favor of a stronger story of novel length (or close to it) using the scenes from this book as part of the materials. If you'd like to read this edition anyway, you can still download it for free on Smashwords. But if you'd rather read the upcoming update, which I hope will prove more satisfying, please subscribe to the roadmap for When Cellphones Make Us Crazy for information about its progress and eventual re-release. And don't forget to upvote the "I Want to Read This" card to let me know how in-demand it is. Thanks.
As much as Johnny tries to run from it, fate always manages to catch up to him, and this time, one day after his graduation from Oxford, fate throws a yellow rubber ducky into his life in a strange attempt to help him refocus his decisions and reroute his future. Will Johnny attempt to trust fate and accept its guiding hand, or will he drudge up the past and try running from it again?
At the end of his coursework at Oxford, Johnny reaches a point in his life where he does not know what more to do or where else to go. Sure, he has plenty of options, but with those options comes an endless chain of questions and decisions to make, and his mind locks up when he has to participate in too much of either. Even as he takes the Tube to anywhere, he wonders if he's in control of his future, or if fate is pulling his strings. There have been plenty of moments in his life when he thought fate had smiled on him, especially the night he'd met Claire, but those moments just showed him that it was all one big tease and the future's real plan was to pull the rug out from under his feet.
The day after graduation, Johnny figures he should start pulling his own strings, so he considers speaking to a life coach to help him plan out his destiny. As he rides the train back to London, however, he discovers one new trick up fate's sleeve, and it comes in the form of a yellow rubber ducky he finds on the floor under his seat. On this duck is a flash drive full of stories from people who have no connection to each other save for the one factor that they had carried the duck around during a brief season of adventure. The drive also contains an instruction: "To anyone who finds this, please take this rubber ducky wherever you go. At any point you should experience something great, I beg of you, write it down and attach it to the duck. Then, leave it for the next body to find. When the seventh individual writes his experience, keep the duck and publish the letters for all to see." Johnny can already see the hand of fate trying to pull him back under its spell. But he takes the bait. He takes the duck with him.
Six people have already written their stories. Johnny is the seventh and final person to take the duck on a new adventure and share it with the world. But how does one live through a story worthy of closing out the duck's epic journey? How much of Johnny's path does fate still influence? And why does the rubber duck seem so familiar to him?
Okay, so I still like this story. I'd place it among my "Available Now" titles if it wasn't for one nagging issue. I know it's basically incomplete. Yes, I wrote it as a short story (and the original story was much shorter, which you can see for yourself if you read Seven-Side Dice), so I never intended to echo any type of plot, just a change in character and a happy reunion, making it a feel-good story by the end. But I can't read it without knowing there's more to the story, and my ideas for it continue to stir in my head, and I'm certain I can make it better if I upgrade it to a novel. And because the novel and short story versions will focus on different goals, I think it's better just to retire the short story version and reintroduce it as a novel with bigger themes and ideas sometime in the near future. In fact, I've already more than doubled its length with a new first act and parts of a new third act. But because I've got other books ahead of it in the triage, I don't yet have a roadmap for it, so for now it'll sit here in the archives until I'm ready to put more work into it. That said, if you'd like to read the short story version anyway, you can download it for free on Smashwords. And keep an eye for its debut on the Book Triage and Update Center sometime in 2022. Once there, you'll be able to follow its update progress and re-release status.
What's more important: achieving personal goals within our own tiny worldview to help work and family thrive, or forsaking those things to achieve a higher calling that might benefit a globe full of complete strangers? One man will embark on a tumultuous journey that attempts to juggle both of these conflicting odds, facing adventure, regret, and death along the way.
How hard should we strive to fulfill the mission of a dead stranger? Somewhat hard? With minimal effort? Not at all? What if that mission is to provide a cure for a deadly epidemic? Somewhat hard? With maximum effort? Until it basically kills us?
Norman Jensen is sent to fight at the front lines of World War I during the waning days of the Meuse-Argonne Offensive when a fellow soldier, Maxie McWalter, shows him the discovery of the ages, a cure for the murderer of many, influenza, and offers for him to try it out. Reluctantly, Norman takes the "cure." His headache immediately disappears, and he's convinced that Maxie has made an awesome discovery. So, when Maxie shares his plan to sell the "cure" and stop the flu epidemic in its tracks, Norman wishes him luck. Then Maxie dies, right before Norman's eyes.
Norman has no idea what the ingredients are that make up this cure, nor does he know how to duplicate them, but because he knows that it works, he's dead set on getting the formula out to the public on Maxie's behalf. However, when he finally has the opportunity to recover the ingredients, after having stashed them during the war for safekeeping, he discovers that they are decaying, and if he doesn't identify them soon, the rest of the world may lose out on the most important medicinal discovery of the 20th century.
Unfortunately, life happens, and so does death, and death is kind of greedy, and punctual, and death has a plan for Norman, whether Norman fulfills his mission or not. Can Norman reason with death, or even fight it? And what's with death's stack of playing cards?
Cards in the Cloak is the adventurous coming-of-age story about one man's mission to complete the plans of another while juggling work, family, and, of course, the occasional parry against a scythe-wielding specter, and making every effort not to lose what's most valuable to him along the way. Pick it up today.
2017 Edition includes new scenes and a set of Readers' Group Discussion Questions for those who enjoy that sort of thing.
Like "The Celebration of Johnny's Yellow Rubber Ducky," I think this story's current version is fine. Problem is, the ending has always bothered me, and I don't think I can fix it without rewriting the story, or at least reshaping its focus. And because the title has never caught on with any reader, I thought I could kill two birds with one stone if I were to rebuild it as a new novel with a new name and new central focus. So, I'm retiring this edition of the story, and its title, and remaking it as Norman Jensen Cheats Death. I still think it's good as Cards in the Cloak, and I'd still recommend it to most casual readers (in this form, it's a novella, so it won't take long to read), but I think my ideas for it moving forward justify its position in the Archives, so here we are. If you'd like to read the original version anyway, you can still get it on Smashwords (for $0.99), and I'll leave it up at the other retailers while Norman Jensen Cheats Death is still under construction. But if you'd rather wait for Norman Jensen Cheats Death, then please subscribe to its roadmap where you can follow its updates and eventual release. And don't forget to upvote the "I Want to Read This" card to let me know how in-demand it is.
Check your shoes at the door before stomping all over your relationship.
Love is many things. But when it's caught in a vicious dating cycle, it can become both exciting and painful. Eventually it finds its stride, and the couple who experiences it will develop a lasting harmony. But until that's found, love ends up in a washing machine, tossing and turning until it either cleanses or fades. This is the story of Gary's wash cycle with Nikki, the girl of his dreams.
Gary Hartland isn't looking for love. After a difficult breakup with Victoria, he has basically written off the idea of loving again. But thanks to a freak bus accident that he narrowly escapes, he is given the serendipitous opportunity to meet Nikki Rose, the girl of his dreams. At first, he is reluctant to talk to her: Never mind the pain he still feels over Victoria; finding love at the site of a bus wreck just doesn't happen. But there are few whom he would consider more his type, and to let her fade into the drawer filed under "lost opportunities" just isn't something he can allow.
So, Gary gives love another try, starting with that awkward first step toward her. Meeting her isn't exactly easy, though, and gaining her interest is even tougher. Like Gary, Nikki isn't looking for another heartbreak, so like Gary, she isn't looking for a new "friend." But he takes that chance anyway, puts his heart on the line, and once again he finds himself experiencing the thrill of discovery and the pain of heartbreak that love so notoriously heaps on those who just want to get it right.
"The Fallen Footwear" is a story about the distances we may travel to make a relationship work. But, it's at its heart a story about healing and forgiveness, about letting go and moving on. It is the story about imperfect people looking for perfect companions and making the most of the results. It is about building hope when hope is at its most elusive.
Neither the original version published in Nomadic Souls nor the updated version released as an e-book works as well as I'd have liked. I thought I had some good ideas for the update (like the main character meeting the girl of his dreams at the site of a bus crash), and a few good scenes (I still think the opening chapter is about perfect, and the night club labyrinth will likely survive any major update I make to this book), but collectively it all falls apart, and there's no way to save it without rewriting it. And, unfortunately, my ideas for the rewrite are troubled. I do think I have an angle that'll work, and once I can devote some time into developing it, I think I'll be able to write something worth reading. But so far, no outlined or rendered version of this story makes me happy, and until I can come up with something that works well, this book will remain in the archives. That said, if you'd like to read it anyway, you can download it at Smashwords for free. At some point, it'll find its way onto the Book Triage and Update Center, but I can't say for sure when. Maybe in 2023.
But, if you wanted access to books that I still promote today, then you're better off checking out one of my other book categories below.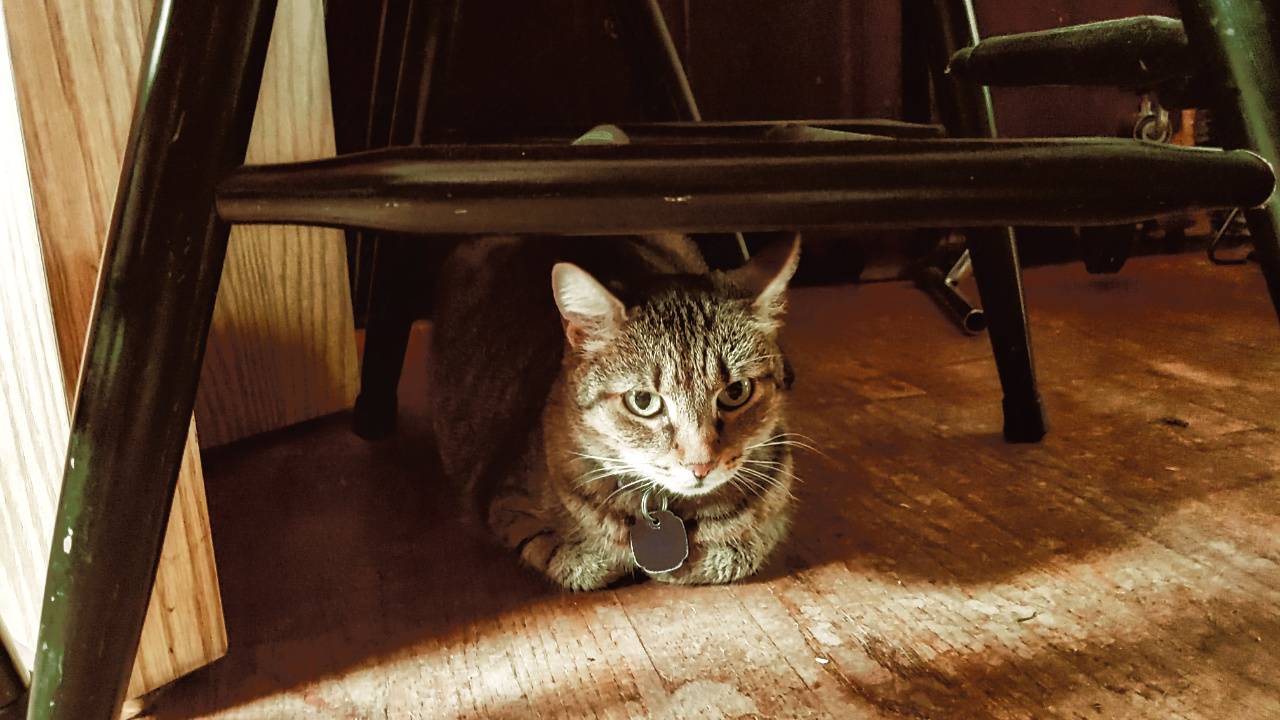 Cajun under a chair (2019 photo, treated).